The first quarter for Labo, and the first set for Mario Tennis Aces.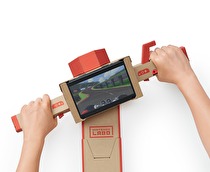 Nintendo has released their financial and sales results for the first quarter of the 2018 fiscal year at the close of business in Japan today. This is for the period from April 1 to June 30.
All monetary results quoted below are in yen, with a dollar figure based on current market rates in US$ ($1 = ¥111.13 at press time) for comparison.
Financial Indicators
Net income: ¥43.866bn (~$394.7m)
Revenue: ¥168.157bn (~$1.514bn)
Operating income: ¥30.535bn (~$274.71m)
Mobile revenue: ¥9bn (~$81m)
Digital sales: ¥18.5bn (~$166.49m), 11% of revenue
Changes to Guidance
Nintendo estimated net profit of ¥230bn yen in the fiscal year, with Switch shipments of 20m and 3DS family shipments of 4m. There was no change to these estimates.
Hardware Sales
Switch: 1.88m units shipped, lifetime shipments (to retail) of 19.67m
3DS family of systems: 360k units shipped, lifetime shipments 72.86m.
Classic systems: 1.26m NES Classics were shipped in the quarter.
Software Performance And Milestones
Switch: 17.96m units of software (+120.8% over Q1 2017)
3DS: 2.95m units of software (-49.6%)
Labo:1.39m (combined)
Mario Tennis Aces:1.38m
Donkey Kong Country: Tropical Freeze: 1.4m
Super Mario Odyssey: LTD sales 11.17m
The Legend of Zelda: Breath of the Wild: LTD 9.32m
Mario Kart 8 Deluxe: 10.35m lifetime, 1.13m in the quarter
Kirby Star Allies: LTD 1.89m
Other notables: The Switch has 10 individual million selling titles
Changes To Upcoming Releases
Nintendo has confirmed the publishing of "Fitness Boxing", an Imagineer-developed boxing simulator, as a first party title outside Japan in "Winter 2018". Other changes were announced at E3.