The original adventure of The New Kid should be out within a couple of months.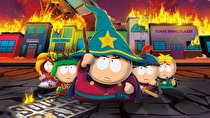 The Switch is getting its second South Park RPG of the year by the end of September, according to Ubisoft.
In a financial results call yesterday, Ubisoft revealed that South Park: The Stick of Truth would be coming to Switch in the July - September quarter of this year. Currently, the game is slated to be an eShop-only release.
Stick of Truth is the first of the modern South Park RPGs, originally releasing on PlayStation 3, Xbox 360, and PC in early 2013 before being ported to PlayStation 4 and Xbox One as a preorder bonus for The Fractured But Whole. Developed by Obsidian Entertainment, Stick of Truth applies the characters of South Park to traditional RPG storytelling. The previous incarnation of THQ was originally going to publish the game, but the rights transferred to Ubisoft after THQ's 2012 bankruptcy.