It's on like Donkey Kong!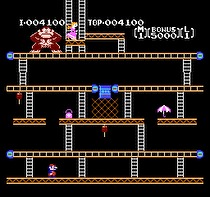 UPDATE: Nintendo of America has confirmed the release on Treehouse Live, available now. NA pricing will be $7.99/$9.87, and they have claimed it is the first re-release of the arcade version since 1981. Original story follows.
A rare version of the first big hit game for Nintendo is coming to Switch tomorrow.
According to multiple sources citing Europe's release newsletter, a listing for Arcade Archives Donkey Kong is included in this week's blast. The game would be launching tomorrow (15 June) for €6.99/£6.29, the standard Hamster Archives price in Europe.
If the release occurs as scheduled, it is not currently known if it would be the 1981 version of the original arcade game, whose code has been subject to a legal dispute between Nintendo and a firm named Ikegami. The original code has never been re-released, and a reprogrammed NES version has been been released twice in recent years and never for direct payment: in Europe as part of an anniversary Wii bundle, and in North America as a Club Nintendo promotion for 3DS. All other versions have omitted the "Cement Factory" level as in the Famicom/NES version.