The classic Mario outfit isn't your only reason to hop on.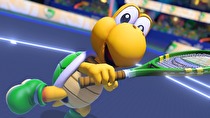 The character roster will be expanding monthly in Mario Tennis Aces.
Treehouse Live revealed that at least two characters - Koopa Troopa and Blooper - will be made available in free updates. Koopa Troopa will land on August 1, and Blooper will follow on September 1.
There will also be additional online tournaments in July and August in which high scorers can earn early access to the characters.