We know one can't be too big because Detective Pikachu and Mega Yarn Yoshi exist.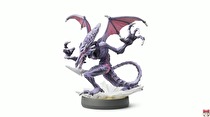 The Smash Amiibo line is about to get an ultimate refresh.
Treehouse Live has shown pictures of Ridley and Inkling Amiibo in the Smash Bros. series. A Daisy amiibo will also be coming, but was not shown. Additionally, the Japanese Nintendo website has mentioned amiibo coming for characters returning from previous games who have not yet received their own figures, including Pichu and Ice Climbers.
Ridley was confirmed to be launching with the game.