Yes, everyone. Even the third party characters. And him. And her.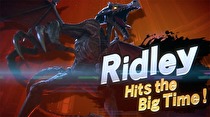 Super Smash Bros. for Switch will be the biggest crossover in the history of video games.
Every character who has ever been playable in a Smash Bros game - even DLC, or characters like Ice Climbers and Pichu, will be playable. Although the initial roster will be based on the original game, the unlocking of characters will be streamlined. In addition to the new Inklings, the other new fighter in the game will be the long-awaited Ridley.
Some characters, such as Ike (Path of Radiance/Radiant Dawn) or Pikachu (male, female, Pikachu Libre) will have these variations represented in the game. Characters who are similar to others with minor differences are now called "Echo Fighters", such as Dark Pit, Lucina, and newcomer Daisy (Peach's Echo).
Some assist trophies can be damaged in battle, and KOing them can earn points. Bomberman, Rodin (Bayonetta) and Sukapon among others will be Trophies All stages playable in the game will have Battlefield and Omega forms.
All Amiibo of characters will work in the same way the Smash series do, and GameCube controllers will be supported.
Super Smash Bros Ultimate will launch on December 7.