There's no concussion issues in this league, given that at least one team doesn't have a brain to injure.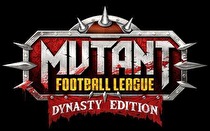 The Switch's first gridiron football game will be a bloody affair.
September will see the release of Mutant Football League: Dynasty Edition both in stores and on the Switch eShop for US$29.99. A spiritual successor to the Mutant League sports games of the mid-1990s, the new game will feature online play and a full Dynasty mode in which you play the owner of teams such as the New Gorelans Zombies or the Purple Mutant Eaters and attempt to lead them to championship glory.
Late hits and brutal acts are a key part of the M-rated title, and the MFL has tapped former NFL Blitz announcer Tim Kitzrow to provide analysis.