Yes, now you can get cheevos on the Switch.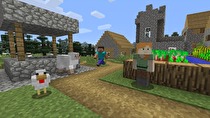 One of last E3's most interesting announcements will finally happen after this year's.
A free update to Minecraft for Switch releasing on June 21 will bring the long-promised crossplay function with Xbox One, Windows 10, and mobile versions to Switch. This includes the ability to earn Gamerscore for Xbox Live on the Switch version of Minecraft, as well as access to a community marketplace for skins.
The retail version of Minecraft for Switch is slated to launch on the same day, and will include the update in the package.