Some might call it a double cross.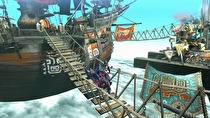 Hunting parties will be forming on Switch in North America this summer.
In a Twitter announcement, Nintendo of America have confirmed Monster Hunter Generations Ultimate for an August 28 launch on Switch. The game is the localized version of Monster Hunter XX for Switch.
A 3DS version of the game was released in Japan last March, and its status is unknown for Western release.