Get ready for some frenzied tag team fighting later this year.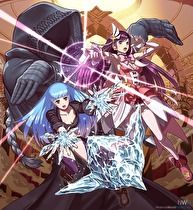 SNK Heroines, the female-focused fighting game from SNK and NIS America, is coming to Switch on September 7.
This 2-vs.-2 fighter pits a variety of characters together, all from SNK's history, to do battle in a streamlined battle system. One of the main hooks is that in order to win matches, combatants need to land specific finishing moves.
Like the title says, it only has heroines, pulling from games such as King of Fighters, Samurai Shodown, and Fatal Fury. You can check out a good deal of the games these characters hail from in Arcade Archives already released on Switch.