And yes, there's an option to include minnows like Canada and the United States.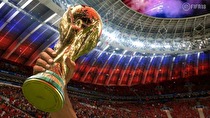 The 2018 World Cup will kick off on Switch in just under a month.
A free update to FIFA 18 will release on May 29 to add support for the latest edition of the quadrennial soccer tournament. The national teams will be updated to reflect their World Cup rosters, and new stadium and ball options will also be added.
For countries such as the United States who failed to qualify for the final tournament in Russia, the option to hold custom tournaments will join the ability to simulate the real tournament.