The prize will involve a pizza with pepperoni and hot fudge.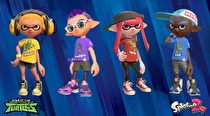 Squids and kids are about to do battle for the honor of turtles.
Nintendo of America, in association with Nickelodeon's upcoming animated series Rise of the Teenage Mutant Ninja Turtles, has organized a Splatfest tournament to determine the best of the four titular half-shelled heroes. Balloting opens tomorrow in game, with the matches organized as follows:
Raphael vs Leonardo: Saturday, May 4 (Eastern time) / 9 p.m. Friday, May 3 -> 9 p.m. Saturday, May 4 (Pacific)
Michelangelo vs Donatello: Saturday, May 11, same times
Winner of May 4 vs Winner of May 11: Saturday, May 18
Because of the format, the normal one week to pick up Super Sea Snails earned during the tournament will be shortened to two days.