Did the Plato estate sign off on this?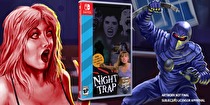 One of the most infamous games in history is coming to a Nintendo platform after more than a quarter century.
Night Trap, the Sega CD full motion video game, has been tabbed for a Switch release "soon". A physical version has been announced for release by Limited Run Games according to the latest issue of Nintendo Force magazine.
Along with Mortal Kombat, Night Trap was a linchpin for the video game industry being called out by the United States Congress in the early 1990s, with then-Nintendo of America president Howard Lincoln stating Night Trap would "never appear on a Nintendo console". The hearings also led to the creation of the ESRB.
Disclaimer: Several Nintendo World Report staff members also contribute to Nintendo Force.