Not bad for a little shooter.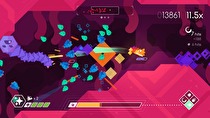 The Graceful Explosion Machine is humming right along.
VertexPop announced today that the Atari-inspired shooter has sold just under 50,000 copies since launching approximately a year ago on Switch. To celebrate, the game is on sale now for 50% off until April 19.
The developer has also confirmed they are working on a new action title for Switch. The game promises to be "colorful" and will release in 2019.