When it comes to blue robots firing Hadoukens, there's no power greater than X.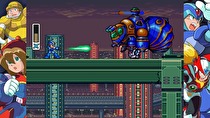 The Mega Man revival on Switch will continue past the original Legacy Collections in May.
After announcing that all of the Mega Man X games would come to Switch in 2018 at the Mega Man 11 announcement stream last year, Capcom confirmed today that they would come in the form of Mega Man X Legacy Collections. Collection 1 will include the three Super Nintendo Mega Man X games as well as X4, while the second collection would include the PS1/2 releases of X5 through X8.
Both collections will release on July 24. Like their predecessors, the two collections will be sold separately on the eShop for $19.99 each, or in a package with Collection 1 on cartridge and a download code for Collection 2 for $39.99. An animated feature called "The Day of Σ", which debuted in 2006's Mega Man Maverick Hunter X for PSP, will also be included with both collections along with new challenge modes that include fighting two bosses at once.