Get your bird, fish, and galaxy-destroying monstrosity on.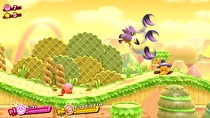 Dream Land residents can now bring in some long-lost friends as Star Allies.
The version 2.0 update for Kirby Star Allies is now available for download. The update adds in five late 90s Kirby characters, as promised in the last Nintendo Direct.
Rick, Coo, and Kine from Kirby's Dream Land 2, Marx from the Kirby Super Star games, and Gooey from Kirby's Dream Land 3 can be summoned at Dream Palaces throughout the game.