Splatoon 2: Octo Expansion tells the story of the mysterious Agent 8.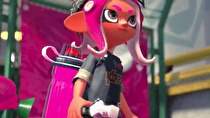 A new DLC single player mode is coming to Splatoon 2 this summer.
Revealed in today's Nintendo Direct, Splatoon 2: Octo Expansion casts you as Agent 8, who looks like an Octoling. She wakes up in a dark underground area resembling a subway without any memories. You'll traverse around 80 different testing facilities that Agent 8 will go through by using her skills. New stories will shed new light on Splatoon characters and add to the game's overall lore. Once you complete the mode, you'll be able to play as an Octoling in multiplayer battle.
Splatoon 2: Octo Expansion will be out this summer for $19.99. Purchasing the DLC early will enable you to receive Octo headgear and clothes that you'll be able to use in Splatoon 2 today.