Square Enix's next RPG is arriving this summer.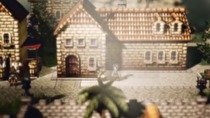 Octopath Traveller, the official name of Square Enix's upcoming RPG, has a release date and some new information.
In today's Nintendo Direct, two characters were highlighted.Tressa, a merchant, can use her job to obtain items others normally can't get. Alphyn, a apothecary whose job is to heal people around the world. He can "warm" out information from other people that others cannot.
The jobs system was also highlighted. You can mix and match jobs along with a character's base job that will help in battle.
Octopath Traveller will be out July 13. A special edition of the game includes a pop up book featuring the eight characters, a coin based on the in-game currency, a map and a CD of the soundtrack.