Waluigi's hair is still weird.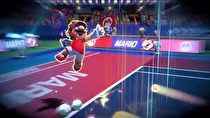 Nintendo announced more information about Mario Tennis Aces during today's Nintendo Direct. More than 15 playable characters with distinct characteristics.
Promising refined Tennis gameplay, Nintendo showed that Aces has a deeper focus on gameplay this time around. The all new "Zone Shot" lets you pinpoint certain shots with motion controls, even being able to break the other player's racket - ending them with an instant KO. Don't worry, players can still stop them with a block.
With "Zone Speed," the world around you moves in slow motion, making it a bit easier to block zone shots by initiating the energy gauge. Fill it up with the new trick shot where you can dive for tennis balls.
Online mode was also confirmed with friends matches and tournament modes.
Swing with a JoyCon in Swing Mode like a tennis racket, making it family friendly and perfect for simple rules.
There will also be a prelaunch online tournament, with a release date not yet announced.
Mario Tennis Aces will be released on June 22nd.