This should be popular with a certain well-known film director.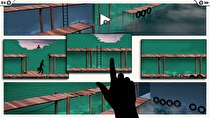 A collection of popular indie adventure games will be hitting the Switch this year.
Framed and Framed 2, highly popular 2014 and 2017 releases, will be coming to Switch this year in a FRAMED Collection. The games are noir-themed puzzle titles in which comic panels are re-arranged in order to facilitate the perfect crime.
The original game received multiple Game of the Year awards in 2014, including being so named by Hideo Kojima.