Some might say a better game than Breath of the Wild is coming to 3DS.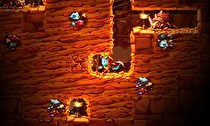 The 3DS will have the entire SteamWorld series on it next week.
SteamWorld Dig 2 has been tabbed for release on the 3DS on February 22. The cost of the game will be the same as it is on Switch: US$19.99/€19.99/equivalents.
Image & Form has stated that the 3DS version of Dig 2 will run at 60 frames per second, regardless of model and even with the 3D set to maximum.