Those Gold coins are about to pay off; literally.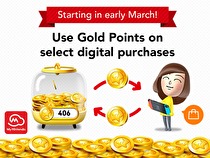 Regular digital buyers are about to get a boost from My Nintendo.
Starting in March, purchasing games will earn 1% of the purchase price for physical games in Gold coins (up from 10-20 presently) and digital purchases will earn 5% back. The coins can then be redeemed on eShop purchases to reduce the cost of the game, in a fashion similar to the Just For You discounts currently offered on My Nintendo.
The reward change is timed to coincide with the existing expiration of My Nintendo Gold coins earned during the Switch launch.