One of these games has a short turnaround.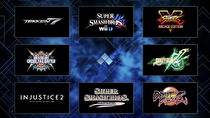 Three Nintendo platform games have made the main field for the EVO 2018 fighting game tournament.
Super Smash Bros (Wii U) and Super Smash Bros Melee (GameCube) will return for the fourth straight tournament, with BlazBlue: Cross Tag Battle making its debut. The other games in the field are Street Fighter V, Tekken 7, Dragon Ball FighterZ, Injustice 2 and Guilty Gear Xrd Rev2.
Las Vegas's Mandalay Bay Event Center will host the tournament from August 3-5. A full schedule of the finals has yet to be announced.