Dust off your 3DS, it's time to play good cop, bad cop with Pikachu.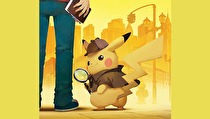 Come March 23, Pikachu fans in the west will be able to explore the seedy underbelly of Ryme City in Detective Pikachu on 3DS.
Playing as the young Tim Goodman, you'll partner up with gruff, battle hardened Pikachu as you investigate the disappearance of Tim's father. Side-by-side, the two friends will be investigating clues and interrogate witnesses, including the many Pokemon that inhabit the city.
A special limited-edition oversized amiibo of Detective Pikachu will also be released at launch. The amiibo will unlock short videos that contain helpful information pertaining to the case. Missed some of the Pika Prompts during your investigation? Don't worry, the amiibo will unlock those too.
Just make sure to have your coffee makers primed and ready, cause Detective Pikachu likes his coffee hot and strong.