With some exclusive content to go with it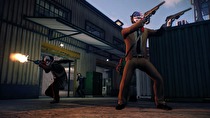 Payday 2's latest heist will go down at the end of February.
The co-op action title will hit the Switch on February 27 in North America and 23 February in Europe, with support for both local and online co-op heists. The Switch version will have first access to a new character who sports a LED mask for additional expressiveness during missions.
Unlike other Switch multiplayer titles, Payday 2 will only support online play with other Switches.