Kirby: Star Allies inhales all takers on March 16.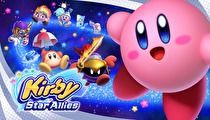 Kirby: Star Allies is coming to Switch on March 16.
Originally revealed at E3 2017, the latest Kirby game is most closely similar to Kirby's Return to Dream Land on Wii, with familiar Kirby gameplay and four-player functionality. Kirby and the playable helpers can work together to solve different puzzles, and in a manner similar to Kirby 64, abilities can be combined.
New copy abilities such as Artist (creates a picture that attacks enemies) and Spider (wraps enemies in silk) were also shown.