And it's expanded, too.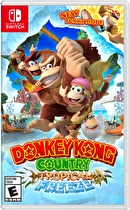 After Bayonetta, the Switch will be getting funky like a monkey.
Donkey Kong Country: Tropical Freeze will release on the Switch on May 4, and will include Funky Kong as a new playable character. Funky will have a loaded arsenal with an infinite roll, a double jump, and the ability to hover. Funky can also corkscrew underwater and use his surfboard to dodge spikes.