Some people will pay money to work on Christmas. It's true.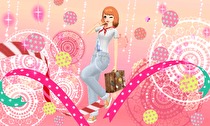 The fourth Style Savvy will be ready following the opening of presents on Christmas Day.
Style Savvy: Styling Star (aka Girls Mode 4 or New Style Boutique 3 in the rest of the world) has been announced for a December 25 eShop only release in North America. A demo is available for the game now.
Among the new features are the ability to work for a production studio and full Amiibo support, though specific lines (Animal Crossing, Splatoon, and Kirby) will unlock Nintendo-themed items.