"Luigi holds it, holds it... HOLDS IT..."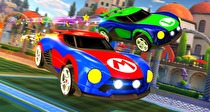 November 14 will see another major multiplatform take to the Switch's pitch.
Developer Psyonix appeared on a new episode of Nintendo Minute today to announce that Rocket League will release on Switch on November 14 in both North America and Europe. The vehicular soccer hit will start out at $19.99 US or equivalent.
The video, which includes new Switch gameplay, can be seen below: