And new icons, the stability of Switch software.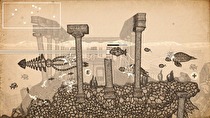 Following major feedback from players, Earth Atlantis will receive a big balance patch.
Intended to address key criticisms of the base game, the 1.0.1 patch will adjust drop rates for items, including leaving the equipped subweapon at the point of death and giving more item spawns closer to the restart point. A faster ship and toning down of boss difficutly with an emphasis on the game's Easy mode will also be included.
The update will be easily signaled, as the game's Switch home screen icon will also be updated with the patch.