The indie scene is pouring it on with two unique takes on the side scroller..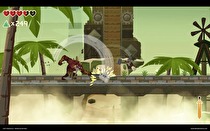 Independent developers are continuing to show the Switch love.
Canadian studio Bishop Games will be bringing a title called Light Fall to the Switch in March of next year. Winner of multiple international awards in its demo form, the hook is that the main character utilizes an item called the Shadow Core to create a platform at their feet.
One man studio OneManOnMars has also announced Leif's Adventure: Netherworld Hero will be a timed exclusive on Switch. Leif and a supernatural character will explore seven massive worlds, collecting weapons to use in challenging combat encounters.