He's at the track, at the wall...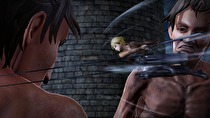 The Titans are coming over the wall for Nintendo owners in March.
Attack on Titan 2, Koei Tecmo's follow-up to a 2016 action title based on the mainstream animated Japanese hit, will release on Switch in March 2018 alongside other platforms. The more action focused title will feature eight playable characters from the two seasons of the anime plus a character creator. A Town Life mode will also be available to give downtime in between raids from the massive Titans.
The game should not be confused with the RPG-based Attack on Titan: Humanity in Chains which was published in the west by Atlus in 2015.