For authenticity, will the back of the top screen yellow over time?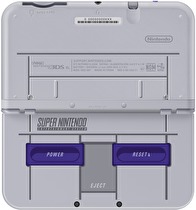 A new model of New 3DS has appeared on the North American Amazon pages that will take advantage of SNES Classic mania.
The Super Nintendo-themed New 3DSXL model has appeared on both Amazon's main page as well as the Canadian website. Modelled after the North American version of the Super Nintendo, the unit is retailing for US$199.99 or C$239.99 with a promised release date of November 27 (Cyber Monday). Super Mario Kart's 3DS Virtual Console release is pre-installed on the system.
So far, no other retailer has listed this model for sale.