Want to try a game without the monetary commitment?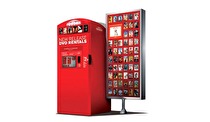 Redbox will now offer Nintendo Switch games for daily rental at select locations. Switch cartridges will match the current $3 rate of other console games.
The kiosks will stock Splatoon 2, Mario + Rabbids Kingdom Battle, Pokkén Tournament DX, Lego Ninjago, NBA 2K18, Just Dance 2018 and more.
Currently gamers in Seattle WA, San Antonio TX and Portland OR will have a chance to check out these options. No announcement has been made about expanding to more cities at this time. However, given the abundance of other games in Redbox kiosks throughout the nation, these cities are probably being used as a temporary test market for Switch games.
Redbox offers rentals through automated kiosks located inside and outside buildings, such as grocery stores. The company currently operates about 40,000 kiosks across America.