The multiplayer-focused space-faring game comes to Nintendo platforms very soon.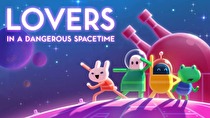 Lovers in a Dangerous Spacetime, from developer Asteroid Base, is hitting the Nintendo Switch on October 3 for $14.99.
Originally released in 2015, this co-op-focused game puts you in control of a neon battleship that must be controlled together by up to four players as you shoot aliens and defend your ship. If you wish to play it solo, you'll have a helpful animal assistant to help. The game is split into 4 distinct campaigns where you and your team goes through different levels, all culminating in a boss fight. The frantic multiplayer nature seems a little reminiscent of Overcooked and Affordable Space Adventures, though the focus here seems a lot more on shooting.
Lovers in a Dangerous Spacetime first came out on Xbox One and PC in 2015, before a PlayStation 4 release in 2016. It's been well received, and we'll have a review of Switch version up as soon as possible.