Another title releasing in a very crowded October.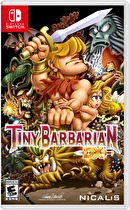 Nicalis Inc has announced its next game to hit the Nintendo Switch, Tiny Barbarian DX. The retro-inspired 2-D platform adventure is set to release for the Switch on October 10th. The game will be available to purchase from the Nintendo E-Shop as well as physically from major retailers.
Tiny Barbarian looks to tug at your nostalgia strings as it's designed with the 16 bit era in mind. Using transparency effects and an old-school soundtrack, Nicalis looks to replicate the feeling of playing cartridge games from the '90s while still conceding to modern comforts such as widescreen aspect ratio and perfect pixel-art.
Retail copies will include a full color instruction booklet, as well as a PVC keychain of the Tiny Barbarian kept in a punch with the game's logo. Check out the announcement trailer: