Rockstar Games returns to Nintendo platforms after eight years away.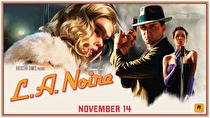 Mark your calendars because on November 14, Rockstar Games will be releasing an enhanced port of their 2011 game LA Noire on the Switch as well as other consoles.
This new port will include the full original game as well as all of the additional downloadable content. The Switch will even receive specific enhancements, a Joy-Con mode with gyroscopic and gesture-based controls, over-the-shoulder camera, and touch-based controls.
This will be the first release of a Rockstar-published game on a Nintendo system since Grand Theft Auto: Chinatown Wars on DS in 2009.
LA Noire is a neo-noir detective thriller originally released on the PlayStation 3 and Xbox 360 in 2011. The plot and aesthetics draw heavily from '40s and '50s noir detective films and a new facial capture technology was used to enhance the character performance. Playing as Cole Phelps, you'll work your way up the police ranks by solving crimes using a combination of investigative techniques as well as your knuckles and gun when required.