Save up your money, October is getting busier.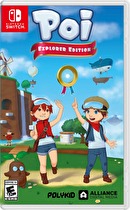 In what is turning out to be a very busy week in October, Alliance Digital Media has announced that it will be publishing a special version of the Polykid-developed Poi. The special Explorer Edition will be available on October 23 and will feature new and exclusive content. A physical version will be available in major retailers on the same day for those looking to save space on their SD cards.
Poi is an adventure that follows two aspiring Master Explorers as they explore the mysteries of the Milky Way Globe. New content will feature more challenging boss battles, new costumes, an unlockable soundtrack, and a digital art book.