The poll that produced all of the Glade mockery will finally pay off.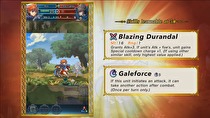 January's "Choose Your Legends" poll for Fire Emblem Heroes will finally see the promised distribution of its characters on (date).
A video posted to Nintendo's mobile Youtube channel has confirmed the top two male and female characters in January's poll - Ike (Path of Radiance/Radiant Dawn), Roy (Binding Blade), Lucina (Awakening) and Lyn (Blazing Blade/"Fire Emblem") will receive a special summoning focus in the game starting on August 31.
As all four characters are in Heroes as sword users presently, these "Choose Your Legends" variants will have alternate options. Lucina will be a lance user, Ike will wield an axe, Lyn will brandish a bow on a horse and Roy will remain a sword user, though his new weapon will have more power.
Additional quests will be available to provide orbs for the summoning, and as of August the first summon on a new banner does not cost orbs. In the case of the "Brave Heroes" banner, the first summon will offer a choice of one of the focus units guaranteed.