The Samus car trained with the Federation in Blast Ball.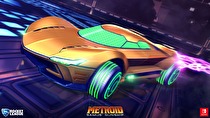 Rocket League will be getting a boost with Mario, Luigi, and Samus themed car livery.
The supersonic acrobatic rocket-powered battle cars will have Mario, Luigi and Metroid themes available on Switch in addition to Mario and Luigi hats for existing vehicles. The Mario car and one Metroid color design will be locked to players on the Orange team while Luigi and the other Metroid design will be locked to the Blue team. Each car will also have a special trail design, with the Mario Bros. cars using Starmen while the Metroid cars trail a Wave Beam.
The special vehicles will be included in all copies of the game, but will have to be unlocked.