Some love from the Eidos side of Square Enix.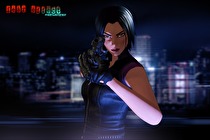 The newest Switch title from Square Enix is a remake of an industry first.
1998 survival horror title Fear Effect is being remade for Switch along with other platforms for a 2018 release. Fear Effect Reinvented is a new title from the Square Enix Collective program which allows independent developers to utilize older properties that were previously owned by Eidos Interactive (acquired by Square Enix in 2008). The remaster of Fear Effect will be developed by Sushee Interactive.
The original Fear Effect was a 1998 PlayStation title that was one of the first games to use cel-shaded art.