Some news to kick off the World Championships.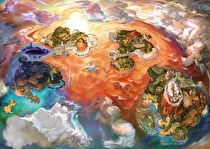 New news has emerged about Pokémon Ultra Sun and Ultra Moon to coincide with the World Pokémon Championships.
Two trailers were released this morning showing new looks for the trainers and Alola regions, as well as new Z-moves like "Clangorous Soulblaze" for Kommo-o which raises its stats and damages all enemies on the screen.
Ultra Sun and Ultra Moon will also feature expansions to the Poké Finder via a new group called the Alola Photo Club.