The misadventures of Fight and Heal will arrive mid-month.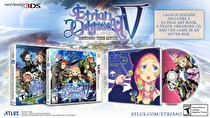 Be sure to have a mapping stylus ready for October 17.
Atlus has announced that date for the release of Etrian Odyssey V: Beyond the Myth for the Americas. The European release date is to be announced at a later date.
As with prior Etrian Odyssey titles, launch copies of V will include an artbook and soundtrack sampler CD.