Hamster and microwave sold separately.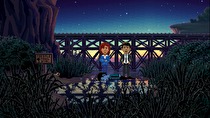 The Switch will be getting the latest adventure from a couple of longtime veterans of the genre.
Thimbleweed Park, a murder mystery adventure game, is slated to launch in September for the Switch. LucasArts veterans Ron Gilbert and Gary Winnick (Maniac Mansion, Monkey Island) both developed the title, which released on PC and Xbox One in March and is slated for a PlayStation 4 release on August 22.
The Switch version will play on TV with the JoyCon controllers, as well as via the touchscreen for handheld and tabletop play.