And more than just the usual adjustments for a smoother gameplay experience.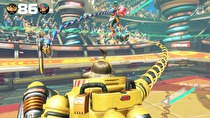 The newest update for ARMS has made some adjustments and also appears to be setting the stage for a new character.
A complete list of adjustments can be found on Nintendo's support site. Among the update changes are a new emphasis on training mode, changes to handling of three way and four way matches, and adjustments to a few characters and several ARMS.
The Japanese Twitter account for ARMS also indicated that the next update to the game would add a new fighter, though details on the new member of the crew were not disclosed.