May the localization be too fast for eyes.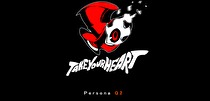 Atlus will continue rocking 3DS games well into 2018.
Persona Q2 was revealed today at the Persona 5 Music Bomb concert in Japan. No details were given, as even the simply says "Please Wait For Next Information!", aside from confirmation of the game hitting 3DS and the use of imagery from Persona 5.
The original Persona Q released in 2014 and was a crossover title featuring the casts of Persona 3 and 4 with gameplay elements taken from the Etrian Odyssey series.