It'll be the answer to a trivia question, probably.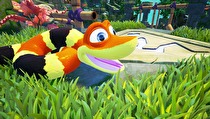 A bit of history was made today with the first Switch game to have an eShop sale.
Snake Pass is currently on sale for 40% off in the European eShop, and will be reduced in North America starting at 10 a.m. Pacific time (1 p.m. Eastern). The US price for the game would be $11.99.
The sale, intended to promote an upcoming patch for the title, will run until July 4.