A Nintendo-related announcement during the Xbox conference.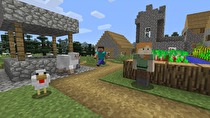 Minecraft on consoles is about to become even more open.
During the Microsoft E3 press conference, the company announced an update to Minecraft this summer that would enable cross-platform play between consoles, including the Switch version. Player-created servers will also be a part of the update.
No details were given on how Nintendo-exclusive content, such as the Super Mario pack, would be handled.
UPDATE: Cross-compatible versions will be between the PC (Windows 10 store), Switch, Xbox One versions and mobile editions of the game. At this time, it has not been confirmed for PlayStation consoles, and the Wii U version appears to not be supported.