A lot of remakes coming out of France today.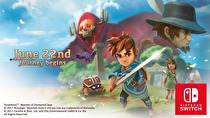 Ahead of E3, several independent developers have announced details about Switch independent titles to release in the coming months.
Oceanhorn: Monster of Uncharted Seas will be the first to launch, making land on the Switch June 22. Heavily inspired by Wind Waker and already appearing on Sony systems and PC, the Switch version promises full resolution (1080p) docked and a high framerate.
Universal has tabbed Shantae: Half-Genie Hero developers WayForward with an upcoming title based on the reimagining of The Mummy. The Mummy Demastered is an exploration platformer that uses a 16-bit art style, and it is slated to launch on the Switch in August.
French publisher Microids, who were confirmed for a version of adventure title Syberia 3 already, have announced five new projects for Switch with release dates ranging from soon to the fourth quarter of 2018. Syberia 1 and 2 are tabbed for release in the third and fourth quarter of this year respectively, with Syberia 3 set to follow in the first quarter of next year. The Switch will also see the remaster of early 1990s action platformer Flashback in the fourth quarter. Lastly, two original titles were announced: simulation racer Gear.Club with a release target of the end of the year, and detective adventure title Blacksad is slated to launch by the end of 2018. (For more on Syberia 3, see Justin Nation's preview.)