Some fine 2D art awaits.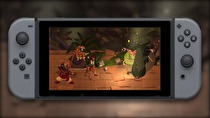 The Switch continues to pick up indie darlings, as the latest announcement is for an action RPG with an impressive pedigree.
Indivisible was announced for a Switch release today, day and date with its release on other platforms. Developed by LabZero, who previously developed the fighting game Skullgirls for PlayStation platforms, the game is a "platformer RPG" with a storyline inspired by southeastern Asian mythologies among others. The soundtrack is from Secret of Mana composer Hiroki Kikuta, and the opening video is from Studio Trigger.
The game was originally funded via a campaign on Indiegogo in 2015, and an alpha version is listed as available. A physical Switch version will also be published by 505 Games.